Lightroom 5.6 Now Available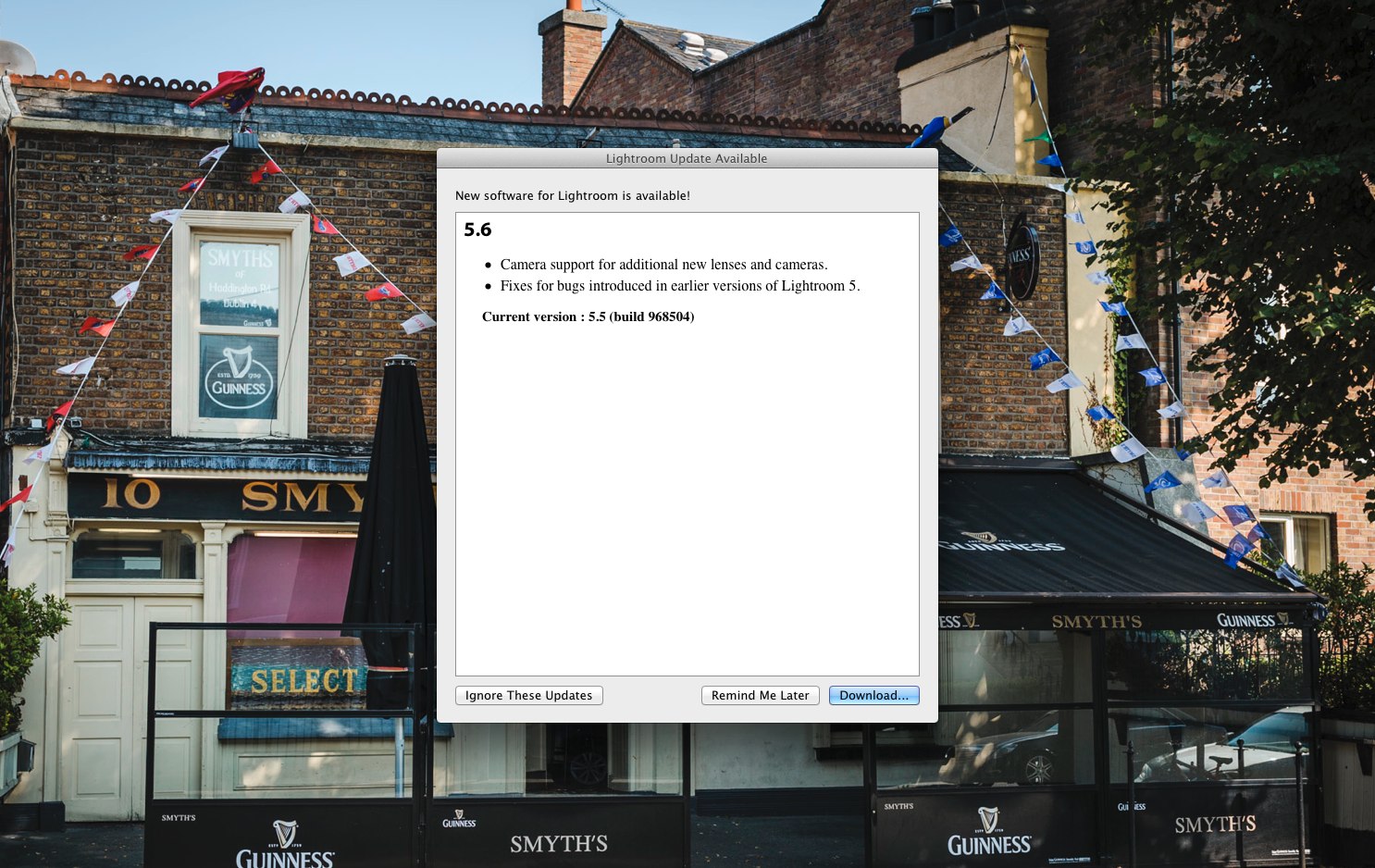 Adobe has released the latest version of Lightroom, 5.6. This release release is provides support for additional camera raw support, lens profile support and address bugs that were introduced in previous releases of Lightroom. Lightroom 5.6 adds support for the following cameras:
Nikon D810
Panasonic LUMIX AG-GH4
Panasonic LUMIX DMC-FZ1000
There have been lots of new lens profiles added to this release too, including a lot of Sony Alpha lenses. You can see the full list of lenses on Adobe's Lightroom Journal blog.
The following bugs have been fixed according to the release notes:
Bugs Corrected in Lightroom 5.6
Collections with a custom sort order would sometimes not properly sync with Lightroom mobile.
Updated the "Adobe Standard" color profile for the Nikon D810. Please note that this only impacts customers who used Camera Raw 8.6 or DNG Converter 8.6 to convert NEF raw files from the D810 to DNG
Star ratings set in Lightroom mobile did not properly sync to Lightroom desktop. Please note that this only occurred on images that were added to Lightroom mobile from the camera roll
Resolved the issues causing the persistent "Syncing … images" state that some of our customers have reported."
Star ratings would sometimes not sync from Lightroom desktop to Lightroom mobile. Please note that this only occurred when attempting to sync a Collection that contained more than 100 photos that already contained star ratings.
Added information to the "System Info" dialogue to help designate if the customer installed Lightroom from the Creative Cloud.
Unable to open sRaw files from the Nikon D810. Please note that this only impacted customers that converted D810 sRaw files to DNG in either Camera Raw 8.6 RC or DNG Converter 8.6 RC.
Images with invalid GPS coordinates would not properly sync with Lightroom mobile
Lightroom occasionally crashed when changing image selection on Windows. Please note that this only occurred on the Windows platform.
JPEG files exported from Lightroom would not open or be available to edit within Canon Digital Photo Professional application software.
Lightroom would run in reduced functionality mode when it should not.
You can upgrade now from the software update function within the software.
Please Help Support This Site
I am a fine art Photographer and do not shoot commercial projects. I do my best to keep this site regularly updated with lots of tips, reviews, news and photography advice, all for free. If you like what you read here and want to help support the site, then please consider buying a Print, checking out my Lightroom Presets