A Sunny Modern Dublin through the eyes of a Photographer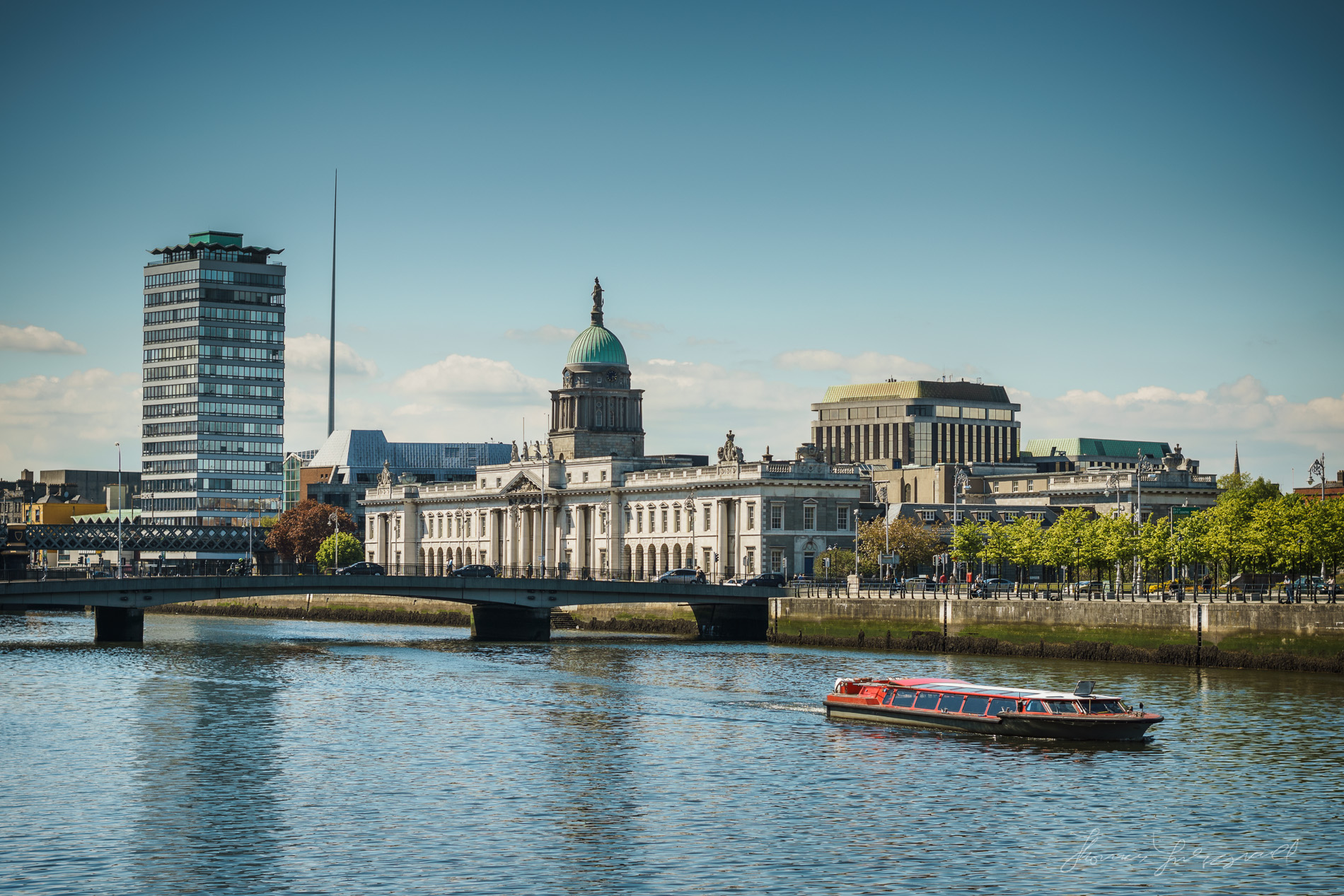 Yesterday was a beautiful summers day here in Ireland. In fact, it was probably the first proper summers day that we have had this year. The warm May sunshine does wonders for our capital city. I always find that Dublin looks like a very different place in the sun, perhaps because we don't get that much of it. As a photographer, I had to make the most of the sunlight related opportunity and so I headed into the city to get some shots.
My trip started out as a little experiment. I was trying out some of my Nikon lenses on my Sony mirrorless camera. I wanted to see how easy it was to use when manual focusing only, and how well my good Nikon prime lenses would perform on the camera, but more on that in another post. It was such a beautiful day that after a while I forgot I was out conducting an experiment at all. I started out at the grand canal, walking from the Charlemont street Luas (tram) stop, down as far as the Baggot street bridge. All along the canal people were sunbathing on blankets on any scrap of green they could find. It was a nice refreshing change from sitting there with an umbrella. From the canal I ventured up Baggot street, and across through a packed Merrion square over to the river.
I love the docklands side of the Liffey. It is like a whole other world. You would never think that you are in Dublin. Every time I go there I can't help but remember a television series I worked on 10 years ago called "The Changing Face of Dublin". The series discussed the then plans for rejuvenating the city. One of the big ideas was to change the focus from the current North/South way of looking at the city to a more East/West layout, and the docklands obviously were a big part of that plan. Since then, much of what was discussed was built and put in place, but unfortunately the idea of refocusing the city never really happened. Still, whenever you are there you can't help but feel that this could have been amazing had it been fully finished and realised.
This lower part of the Liffey really feels like what a modern Dublin could have been. And while there are some businesses and hotels, and of course the conference centre, it still feels a bit bleak when you are walking by it. The half finished buildings don't help either. I'm not trying to be negative though, I think what is there is beautiful and modern and should be cherished. Don't get me wrong, I think that the old parts of Dublin are beautiful too, but I hate that the city, and Ireland in general is still portrayed as a quaint old fashioned twee Ireland to tourists on postcards, with the main focus being the temple bar pubs, the Ha'penny Bridge and if you're lucky the Customs House.
As a photographer I often hear people often say that my photos of Dublin sometimes make the city look like it's somewhere else, that they don't look like Dublin. It's not really intentional, but perhaps on some subconscious level I like to see the to see things differently. I wish that we could put aside the negativity and the twitter moaning and look at this beautiful shining city that we have and what we could have. As I walked up the north side quay towards the conference centre I was walking along with crowds of tourists. None were arguing about the politics or complaining about how they would have done things. They were marvelling at the beauty of the Beckett bridge, the originality of the conference centre and the beautiful may sunshine. Dublin certainly has its problems, but maybe for just one day we could look through a tourists eyes and see the beautiful modern Dublin that we should be proud of.
If you like this what we're doing here on the blog, don't forget to Subscribe to the RSS Feed, or check out my Google Plus and Facebook Pages…